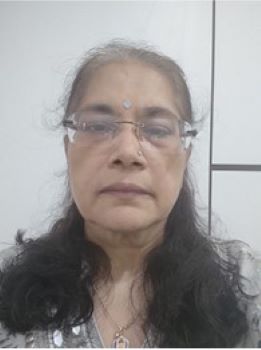 Education: Bachelor of Arts (Honours) Psychology Sociology, Masters in Management Studies & Diploma in Export Management
Dr. Ms. Priya Madhukar Kenkare is Visiting Faculty at various Management Institutes across India and she brings with her over 37 years of experience such as Adjunct Faculty of Business & Management in a Global Context, International Comparative Perspectives, Core Management Concepts, E-Business, Human Resource Management with Russel Square International College and Business Study Skills & Methods, Business Communication, Management & Business in a Comparative Perspective, Advertising & Promotion Management with University of London's Royal Holloway College.
Further, she has experience as Visiting Faculty of Business & Management of Podar World College in E-Business, Development Management and Social Media. Dr. Ms. Kenkare holds Bachelor of Arts (Honours) Psychology Sociology and Master's in Management Studies (M.M.S) in Marketing from University of Bombay and Diploma in Export Management University of Vadodara and she has also Completed Doctorate (PhD) in Management from New Age International University, European Union and Diploma in Hotel Management and Catering Technology.