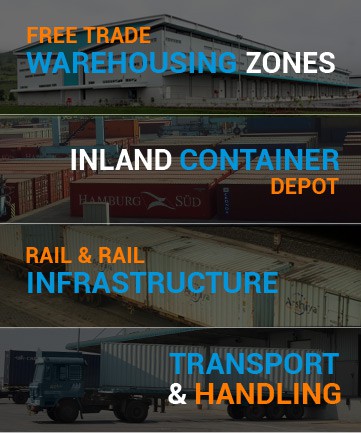 A pioneer in the development of Free Trade Warehousing Zones (FTWZs) in the country, Arshiya has several firsts to its credit: it is the only free zone developer operating 2 FTWZs and the largest private container train operator with pan-India operations. It also has the advantage of owning the only Private Inland Container Depot (ICD) with the 6 rail loop lines.
Strategically located, Arshiya's FTWZs – Panvel near Mumbai spread over 165 acres, catering to western India, and Khurja near Delhi, spread over 325 acres catering to north India – are well connected by rail and road networks, and co-located with domestic distriparks which facilitate duty-deferred hubbing opportunities.
Rail Terminal with six rail sidings capable to handle Containers and extended part suitable for PFT.
Arshiya's world-class FTWZs, Rail Infrastructure, dedicated Container Yards, state-of-the-art cargo handling equipment, skilled manpower and integrated IT services are uniquely positioned to assist its clients in enhancing their business processes and supply chain.
Arshiya is rapidly expanding its business capabilities by creating unique synergies and leveraging the specialized knowledge of its team of experts, Arshiya is successfully providing services in a cost-effective, efficient, innovative and tailor-made solutions to its clients.