Rail Connectivity - 6 Private Handling Lines, Rubber Tyre Gantry (RTG) Operations & Owned Container Trains & Rail Engine (LOCO)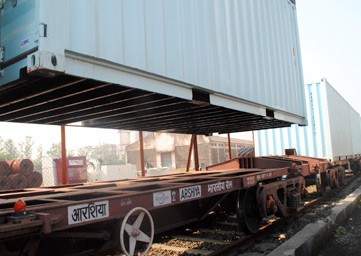 ICD-Khurja is the only private ICD in the country to have exclusive connectivity with 6-lane private rail siding offering regular and prompt rail connectivity through owned rakes to all the major gateway ports that service the northern region of India. For expedited and uninterrupted train movements, we have also deployed our privately-owned rail engine (locomotive) for placing and shunting of the rakes
Handling of rakes are done with world-class infrastructure comprising Rubber Tyre Gantries(RTG) to ensure least breakdown/ delays, quick shifting of containers and lightening fast loading/ unloading of trains in order to ensure prompt train despatch for timely connection of containers to their nominated vessels at the gateway port
Being the largest private container train operator, the train service to the ICD is prioritized and schedules are strictly adhered too. Solution based movements through owned rakes are also provided to the customers to meet any special needs that may arise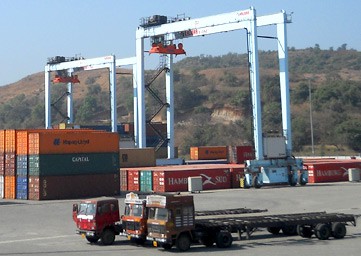 Multiple, congestion-free approaches from major highways & proposed freight corridor
ICD Khurja is located strategically with multiple road approaches from the major 4/6 lane highways providing a congestion-free movement of cargo and containers.

Currently, the approach roads are from the NH 91 (Old GT Road), NH 24 and the Greater Noida Expressway, all of which are 4/6 lane highways that ensure hassle-free and smooth flow of trailer/ truck traffic to and from the ICD.

In the near future, the confluence of the western and eastern freight corridors shall be at Khurja which shall further enhance the approach to the ICD for an extremely quick access to and from the ICD and provide a dedicated road connectivity with major gateway ports.
Free Trade Warehousing Zone within the Hub:
ICD Khurja is co-located in the Mega Industrial & Distribution Hub with a 135acre Free Trade Warehousing Zone (FTWZ) offering a host of benefits to the industry. The FTWZ an economy-changing concept in Dubai and Singapore was introduced in India by Arshiya who was the pioneer in setting up state of the art FTWZ infrastructures allowing clients to leverage India's cost and skill arbitrage.